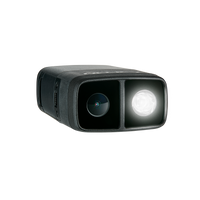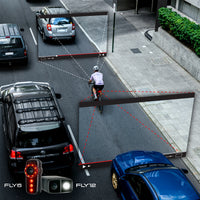 Description
PRE ORDER NOW FOR NOVEMBER DELIVERY! 
The Fly12 front-facing bike 
camera and 600 lumen 
light is 
engineered for peace of mind 
on the road 
and a run time that 
lasts as long as you do.
INCIDENT PROTECTION
If you're involved in an incident, the Fly automatically locks the footages so it can't be overwritten.
Peace of mind
Capture the good bad and the ugly at up to
60 frames per second in crisp HD with audio.
BLACK BOX TECHNOLOGY
Hit the deck and the Fly12 locks the video and audio either
side of the incident. Smart video looping means you'll never
run out of space on your SD card.
GET HOME SAFE
If the battery runs low, HomeSafe mode kicks
in to keep the lights on for up to 30 minutes.
BUILT TO LAST
Waterproof to 1m with a nanotech coating to keep out the dust, dirt and destruction.
Fly12 CE tech specs - Cycliq - Bike Camera and Safety Lights
­
Bike camera resolution: 1080p Full HD video at 60 fps or 30fps (1920×1080 16:9), 720p video at 60fps (1280×720 16:9)
EIS: 6-axis Electronic Image Stabilisation
HDR: High Dynamic Range
Viewing angle: 135° wide angle
Recording structure: Looping video recording
Segment size: 900MB – 1.3GB (5 min segment at 1080p 60fps)
Video format: MP4
Light
Max brightness: 600 Lumen
Light modes: Constant, flash, pulse
Brightness setting: Low, medium, high
Audio
Output: 5 volume levels for alerts
Microphone: Stereo recording
Alerts: When turning your device on or off, an audible battery status will sound, alerting you to the current battery level.
A recording alert notification can be set which provides a confirmation chime at 3, 5, and 10-minute intervals to notify you that your device is still recording video footage.
Size and weight
Height: 3.3cm
Width: 5.5cm
Depth: 8.4cm
Weight: 195g
Battery
Type: Rechargeable lithium-ion battery (built-in)
Size: 4200mAh
Charge port: USB-C fast charge accepting up to 2.1 amps.
Charge your Fly12 CE using a USB wall charger (not supplied) or a USB port on your computer.
Water and dust resistant
Ingress protection: IP67
The Fly12 CE has been designed for all-weather use and is waterproof to 1 meter
Mounting
Cycliq 1/8th turn quick release
Handle bar mount with spacers provided
Temp. range
Operating temperature: 0-45°C (32–113°F)
Storage temperature: 0-45°C (32–113°F)
In the box
1 x Fly12 CE
1 x Handlebar mount including 2.5mm hex bolt
1 x Universal adaptor mount
1 x M5 screw for universal mounting adaptor
1 x 22.2mm rubber handlebar adaptor
1 x Tapered rubber handlebar adaptor
1 x Quick start guide
1 x Safety information and warranty sheet
1 x USB to USB-C cable
1 x Safety Tether